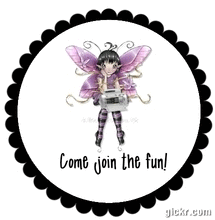 I wanted to give my followers a little heads up...
September 3rd through 5th, myself and some of the other Cricut Card Fairies are hosting a blog hop.
I know that there are quite a few of the other ladies who are offering blog candy, and I will as well... but I've decided that instead of paper or embellishments;
I'd giveaway a Cricut Cartridge
!
Keeping the 'fairy' mentality, I've decided I'm going to giveaway one, Tinkerbell & Friends Cricut Cartridge!
Be sure to head over here on the 3rd, and run through the lineup!
Enjoy!
Dawn